However because of the virus, supplies are getting hard to get from Japan as  everything is coming by boat. I am suspending making custom decals until the situation improved.  I will make custom vinyl lettering.

I can cut vinyl lettering, but to weed or clean out the material around the letters, the text can not be smaller than 1/2 of an inch high. I use fonts from www.railfonts.com with permission from Benn Coifmann. Railroad Roman font is very hard to weed especially in smaller sizes. The smallest size I will cut is 1/4 of an inch high. The vinyl can be cut as large as 9.25 inches high and 39 inches long. Last year I did make vinyl lettering for a real locomotive in a Duluth Rail Museum.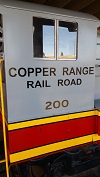 Contact me if you want vinyl lettering made.
Prices
The price per foot is $20 plus shipping, which is to be determined by an e-mail correspondence with the customer.