Custom Built Specialty Cars and Trains

Shipping add $25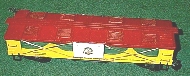 SHAWMUT has built quite a few unusual freight cars and Maintenance of Way pieces. We have designed and built well over 100 pickle cars. Some of our cars are on display in pickle companies. Customers can opt for the 3 or 4 tub car and have the name of their choice, however we will not use prototype names that lack official permission from the company in writing. Most people name the cars after their model railroads or fantasy designs. The cars feature custom turned wooden tubs mounted within a plastic car. Pickle cars $150


SHAWMUT own indoor 1:29 scale layout features the steel mills of Pittsburgh and the UNION RR. So with a need for coil cars, I designed a coil car to use both round and hexagonal coil covers which I had specially vacuum formed. I normally use an Aristo flat car as a base to build the car. The covers are not removable. Coil Cars $ 170 with either coil cover style or combination
Specialty Cars Shipping please add $ 15 per car

SHAWMUT is located 10 miles from where the Russell Snowplow Company was located, so we designed a Russell snowplow. SHAWMUT has made quite a few of them. Most of the eastern railroads & many of the western railroads used the snowplow. Some are still in use in Canada Russell Snowplows $180.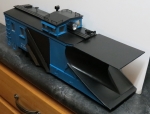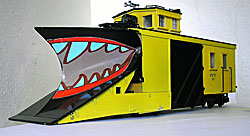 Repaint your USAT Rotary snow plow  $ 175

'
SHAWMUT was asked to make some of the older milk cars used on the eastern railroads to haul milk products to market. So the following cars have been made with the Butterdish milk car pioneered by Borden's in the 1930's a popular car.
Butter dish style milk cars $175National Car Co. milk container car $125, 50 foot round roof milk car $200 USA woodside reefer with round roof $ 150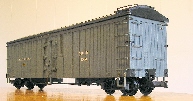 SHAWMUT was asked to build a model of the Pennsylvania G38 / G39 ore car. These cars lasted until the mid 1990's on Conrail and some are still in use on shortlines for M of W cars. The sides on the car are slanted inward with ribs for strength PRR. PC, or CR G38 or G39 slanted side ore car $150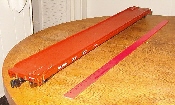 SHAWMUT was asked to build an 89 foot flat car. We then decided to build the modern enclosed auto carrier and have built several. But a full length car works out to 38 inches which is slightly long for most outdoor layouts, so customers have asked for shorter cars. Recently SHAWMUT has modified USAT modern auto carrier.
Modern 89 ft piggyback flat car or container cars with 2 or 3 containers  $ 350 + $25 shipping. We can shorten the car if you desire – ask for a quote.


Modern cryogenic tank car  $ 250

This was a car built for GNA for an energy conference in 2013
Unusual cars built – ask for quote
Shawmut has established a working relationship between many railroads such as THE INDIANA RAILROAD, UNION TANK CAR, and the R.J. CORMAN RAILROAD and various industries such as Kasgro Rail Corporation.   I will also paint retirement pieces for Railroads and Industry.